The Knockout Super Series Begins September 22nd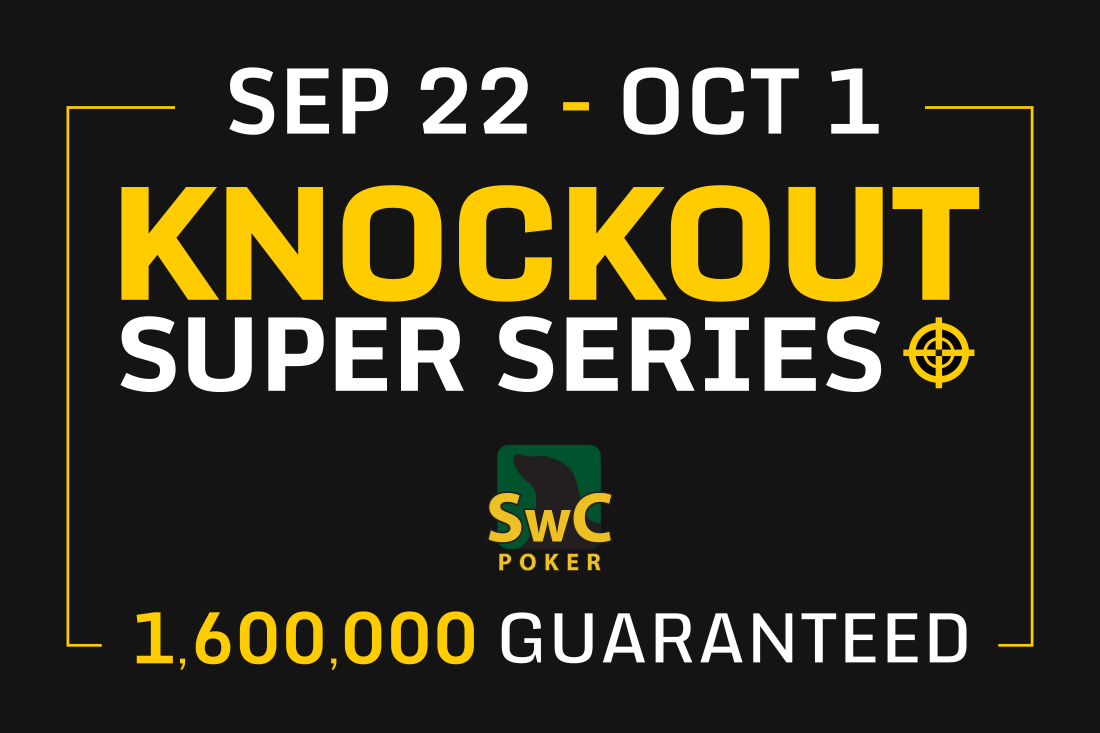 The Knockout Super Series: 1.6 BTC Guaranteed
It's been one year since we introduced the first installment of PKO Week, and on this first anniversary we're throwing a big celebration!
We've taken the PKO Week schedules you love, added a selection of new bounty tournaments, and supersized the whole thing to create the Knockout Super Series.
The Knockout Super Series runs from September 22nd to October 1st, featuring a mix of 25 PKO and Bounty events with 1,600,000 μBTC (1.6 BTC) in prize pools guaranteed.
Buy-ins range from 500 μBTC to 5k μBTC, with a total of four 5k buy-in events spread across the 10 day series.
Twitter Contest
We're giving away 5 FREE entries to Event #3 on our Twitter account!
https://twitter.com/swcpoker/status/1700143253163536655
To enter: follow @SwCPoker, retweet the post linked above, and reply to the post with your SwC username.
Knockout Super Series Leaderboard
Earn leaderboard points by knocking out your opponents and collecting their bounties. The leaderboard point formula is as follows:
10 x (√Bounties Collected)
Players that register for an event before it begins will also receive a 1.5x leaderboard point bonus!
The final Top 16 players on the Knockout Series Leaderboard will qualify to play in the Total PKO Freeroll on October 2nd, with 100% of the prize money being allocated to the bounty pool.
Players that finish in the Top 3 on the leaderboard will earn bonus tickets which can be used to re-enter the Total PKO Freeroll.
We will be posting updated leaderboard standings daily at Twitter.com/SwCPoker. Make sure to follow and turn on notifications to get real-time series updates.
Leaderboard Pools
Leaderboard Pools give players the option to compete for extra prizes by earning leaderboard points.
To enter, simply register for a Leaderboard Pool found in the tournament lobby before the start of Event #1 on September 22nd.
At the conclusion of the series, 100% of the funds collected will be paid to the player in each Leaderboard Pool that accumulates the most points. There are no fees taken out of the pool.
Leaderboard Pools are available in a range of buy-ins for players of all levels. Players are free to join as many pools as they wish.
Progressive Knockouts and Bounties

When you eliminate a player in a progressive knockout event you will be awarded 50% of their current bounty, and the remaining 50% will then be placed on your head.
In a bounty tournament each player has an equal bounty value on their head. When you eliminate a player you will be awarded 100% of their bounty.
Tournaments labeled as Big Bounties will have 33% of the buy-in total allocated to the bounty pool.
The Knockout Super Series Main Event

The 2023 KO Super Series Main Event, a progressive knockout, will take place on October 1st and has a guaranteed prize pool of 225,000 μBTC.
Series Highlights Include:
– Event #3 – 500 μBTC NL Hold'em PKO with 25,000 GTD
– Event #6 – 500 μBTC PL Omaha PKO with 20,000 GTD
– Event #9 – 5k μBTC The BIG BTC! 30% Bounty with 200,000 GTD
– Event #16 – 2k μBTC NL Hold'em 50% Bounty with 60,000 GTD
– Event #20 – 1.5k μBTC Saturday Special Big Bounty with 50,000 GTD
Full 2023 Knockout Super Series Schedule
Series Leaderboard
Leaderboard Pools