Drawmaha (Sviten) – The Greatest Poker Game now at SwC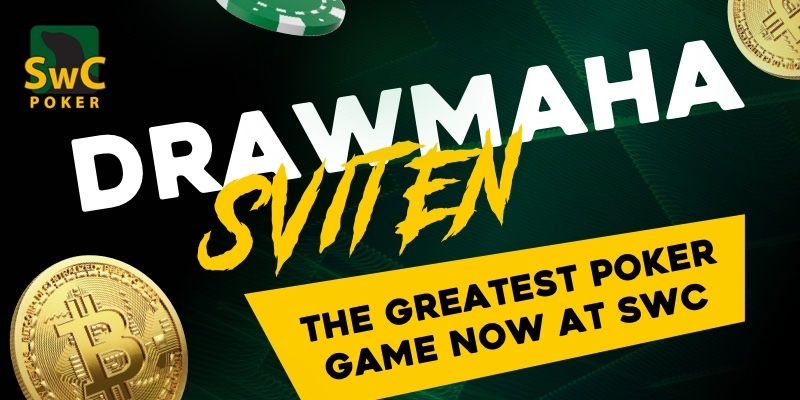 Drawmaha!
We're thrilled to announce the latest addition to our lineup of exciting poker games: Drawmaha.
Elevate your poker experience to new heights with this exhilarating blend of 5-Card Draw and Pot Limit Omaha.
Drawmaha, also known as Sviten Special, is a split pot game that guarantees non-stop action and excitement in every hand. With it's unique combination of Draw and Omaha strategies, it's a game that will keep you on the edge of your seat.
How it works
Each player is dealt five face-down cards, followed by the first round of betting. Just as in Omaha, the game is often played as Pot-Limit to ensure a perfect balance of intense action without going overboard.
After the initial betting round, a standard three-card flop is dealt. Players must then decide how many of their cards they wish to exchange. You have the option to keep all of your cards or exchange up to all five in a single draw.
Here's the twist
If you choose to exchange only one card, the dealer will reveal that top card off the deck to all players. You are then given the option to keep that card, or to discard it and opt for the next card in the deck, which remains face down.
Once all players have their new cards the game proceeds as normal with subsequent turn and river streets.
At showdown, the pot is split between the player with the best Omaha hand (2 cards from their hand, 3 from the board) and the player with the best 5-Card Draw hand (all 5 cards from their hand).
Rinse and repeat
Drawmaha is a game designed for action lovers and strategic thinkers alike. Whether you're a newcomer or an experienced poker player seeking a fresh adventure, Drawmaha is sure to provide endless thrills and strategic opportunities.
Experience the excitement of Drawmaha today and redefine your poker journey like never before!