HOW TO PLAY BADEUCY POKER AND BECOME A PRO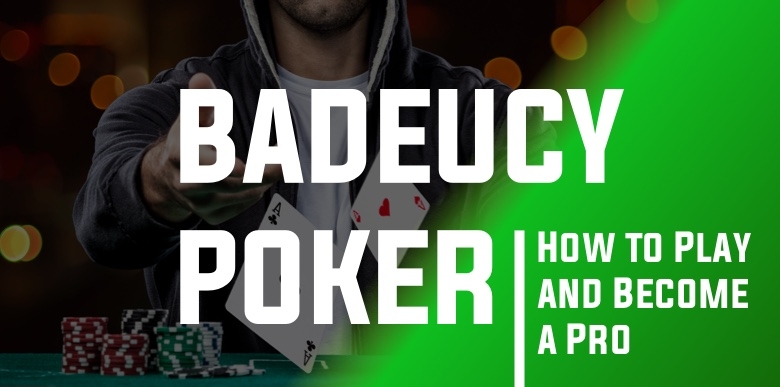 BADUECY IS AN ORGANIZED BETTING GAME IN WHICH HALF POT IS AWARDED TO THE BEST 2-7 HAND, AND THE OTHER HALF IS GIVEN TO THE BEST BADUGI HAND
Badugi and 2-7 Triple Draw Lowball are two poker variants that have grown in popularity in recent years. Both are draw poker variations that generate much action. Someone along the way decided to combine the two games to create a split pot game; the Badeucy was born! However, in this post, we will look at what Badeucy poker is, where it originates from, how to play Badeucy poker and what it takes to become a successful Badeucy player.
What is Badeucy Poker?
Badeucy is a mixture of Badugi poker and 2-7 Triple Draw with hand values resembling Lowball. In this game, the pot is shared similarly to a high-low split between the best Badugi hand (aces high) and the best 2-7 Triple Draw Hand. The game's betting pattern and general rules are almost identical to that of a normal blinds-based poker game. A player's hand consists of five cards, four of which are used to select the best Badugi hand and five of which are used to decide the Triple Draw Hand. Players can swap between zero to five cards in their hand for new ones from the deck during each of the three drawing rounds.
Where does it come from?
A lot of people have tried researching the history of Badeucy Poker, but most of them came to no logical conclusion. The origin of Badeucy is uncertain, but because of its rise in popularity all over the world and on online platforms, more and more players are getting interested in this poker variance. So, the real history of this game will gradually unveil itself with time and popularity in our opinion.
Poker 101 – How to play Badeucy poker?
The question of how to play Badeucy Poker and dominate the game is on a lot of players minds these days. The game starts with the first players clockwise from the button. Each player receives five-hole cards, and a round of betting follows. Each player has the option to call (match), raise (increase), or fold and quit the hand. When the betting round is over, a draw occurs. Players pick one or more cards to discard, starting clockwise from the button. A player may also "stand pat" by not discarding any cards. For any discards, players are handed replacement cards.
A new round of betting begins, with the first player clockwise from the button. A second draw is held, followed by a new round of betting. The third and final draw occurs, followed by the final round of betting. If two or more players remain in the hand, a showdown occurs in which the remaining player's hole cards are compared. The best 2-7 Low hand receives half of the pot, while the best Badugi hand receives the other half of the pot (with Aces high). If two or more players tie for either half of the pot, that half of the chips gets divided equally among the winners. When the hand is finished, the dealer button slides clockwise, and a new round of different hands begin.
In Badeucy, players use all five-hole cards as their 2-7 Low hand and may also use any 4 of their hole cards to make a Badugi hand. In contrast to other Badugi games, Aces always play high in Badeucy, resulting in the strongest possible Badugi hand of 5-4-3-2 of four different suits. The term Badeucy references to the game's lowest card, the 'deuce.' The Badeucy poker game options include Pot Limit, No Limit, and Fixed Limit games.
Difference between Badugi and Badeucy?
There is a difference between how to play Badeucy Poker and Baduggi compared to other variances of poker games, like the 2-7 Triple Draw Lowball. In 2-7 Triple Draw Lowball, the goal is to build the best five-card hand possible. Straights and flushes are bad for your hand, and holding an ace is always a good hand. In the game of Badugi, you want a four-card hand with one of each suit. This is known as a Badugi. If more than one person has a Badugi, the player with the lowest hand wins. The lowest Badugi is usually A-2-3-4. However, as for Badeucy, aces are equally valuable for the hands in Badugi. This results in the best possible Badugi hand being 2-3-4-5.
When it comes to Badeucy, six player tables are involved in the majority of Badeucy games. The goal in Badeucy is to win the entire pot by taking half of the pot with the best 2-7 hand and the other half with the best Badugi hand.
What are the simplest strategies?
Badeucy contains numerous strategic similarities with other kinds of draw poker variances. The preferred strategy is to win half of the pot by producing the very worst possible hand. 2 3 4 5 7 is an example of the best possible hand in Badeucy.
How to become a a great Badeucy player?
Unlike most split-pot games, you should concentrate on starting hands that provide you with the highest chance of scooping. Avoid higher Badugis whenever possible to do so. Since everyone is handed five cards instead of four, the chances of hitting a lower Badugi improve significantly. For starting hands, concentrate on playing hands that only require two cards to finish. To begin, you need to have at least three suits. You'll then have three draws to your Badugi while trying to improve on your 2-7 hand.
Baduecy requires creativity and quick thinking to really master the game properly. We advise you to read, play and study the game before taking part in the higher limits, that might affect your overall bankroll. Whether you're looking to learn how to play Badeucy poker or you want sharpen your skills to become a successful Badeucy player, we hope that our little step by step game tips helped you along the way! Join us at SWC Poker rooms and earn your crypto by being one of the best in Badeucy.