HOW TO PLAY BADUGI POKER AND BECOME UNBEATABLE?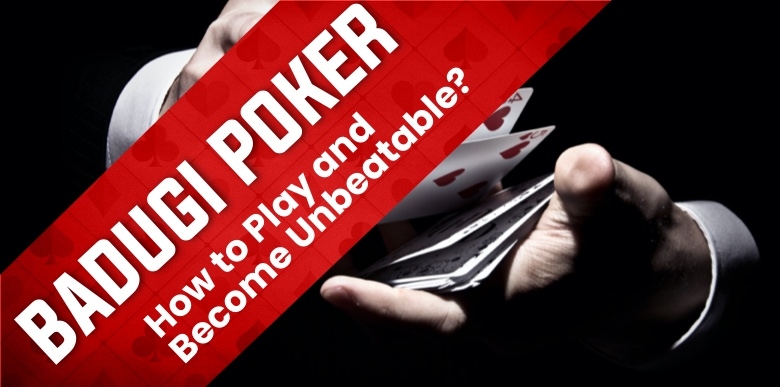 WANT TO LEARN HOW TO PLAY BADUGI POKER? WE'VE GOT YOU COVERED! CLICK HERE FOR THE BEST BADUGI POKER GUIDE, BEFORE JOINING US ON SWC POKER!
What is Badugi Poker?
Badugi Poker is a well renowned variant of 'draw poker', where the main goal is to achieve the lowest four card hand. Each player has three attempts to discard unwanted cards from their hand and draw new ones. Continue reading this article for a complete guide on how to play Badugi poker.
As in any game of poker, the winning hand is the lowest and the losing hand is supposed to be at the table, according to the traditional rankings of the poker hand. In Badugi poker, the best and the lowest hands you can have are A, 2, 3 and 4 in 4 different suits.
The Origin of Badugi Poker
It is believed that the game originated in Korea, and is named after the Korean word "Baduk" which is translated as "black and white pattern". This game is widely played all over the world in live poker rooms and online.
There is also evidence of variants of this game being played in Canada in the early 1980's as 'Off Suit Lowball' in back room poker clubs. There was also another variant known as 'Leapfrog' which stated that in terms of pip value, the cards must not "touch".
Difference between other poker games and Badugi?
Badugi is a very famous poker game that is a variant of 'triple draw', but has numerous differences compared to other poker variances. Firstly, players only get four cards at a time instead of five. The ranking system of the hand is also different, which is why it is necessary for individuals to be aware of the ranking system before playing Badugi. It is played with a maximum of 8 players, because the deck (of 52 cards) could get exhausted too soon if the player count were above 8, due to redraws.
How to Play Badugi Poker
The ace is considered to be the lowest card in this game, your goal is to find the minimum set of four cards to win the pot. A 'Badugi' is termed as no paired cards and a hand of four different suits.
A four-card hand of four different suits and no paired cards is known as a "Badugi". It is unfavorable to have two cards of the same type, as this disqualifies you for a four-card Badugi.
To decide the winner, the lowest 4 card "Badugi" is chosen. In the absence of a four-card Badugi, the best three-card hand is considered a winner and so on.
What Are Some of the Strategies?
This poker game might be a new variation of poker for many so one must learn some basic strategies to win at it. Below are some of the tips to help win even against the toughest opponent by learning how to play Badugi poker.
Some Basic Tips for Badugi Poker Plays
Badugi Poker is gaining a lot of popularity in the online poker rooms, and to become a master of the game, it is recommended to start by learning Texas Holdem poker. In the case of beginners, it is not necessary to learn the Texas Holdem. One might enjoy it but also get confused in the beginning. The game aims to find the minimum set of four cards, so the first thing to do is to know the rankings of hands. It is important to be clear-headed. You should only play it if you are well-equipped and well-informed about the rules. Once you learn the basics of how to play Badugi poker, you can easily compete against tough opponents.
One of the most important elements of Badugi poker is that you will need to make four cards of a different suit. This means that even if you sit down with three of a lower category and you are just one down to a very low hand, you can still lose the game. This may easily lead to frustration, so you have to be ready to play with patience and try to enjoy the game.
In Badugi Poker, you will have plenty of opportunities to bluff, and it can be a lot of fun. The art of bluffing seems a little bit different in an online game. However, people also learn to do it really well online. The best strategy to learn bluffing is to keep a close eye on your competitors. Try to learn about their strategies and watch out for any 'tells'. Remember their strategies and see if other players do the same.
How to Become a Good Player?
One of the best ways to successfully play Badugi poker is to learn about other players and their strategies. One must learn the types of players and their game plans. We guarantee that this will help one learn how to play Badugi poker and become a successful player. We have done a little research on types of Badugi players and how one can beat them. Learn these strategies and become a successful player by beating head to head.
Type 1: The Newbie
These first type consists of players that do not have any knowledge about the position or its use. Following key points about these players can help beat them:
They will believe that you have Badugi whether you have it or not
They will never make bluff-raises to try to break the weak Badugi
These types of players will hardly make a bad fold even when it is necessary
Exploit their weaknesses and beat them!
Type 2: The Impulsive Decision Maker
The second type of player is the one who is bad at making rash decisions. In online mode, players are often put under pressure to make their own decisions without having to see what other players are doing on the other end.
They mostly use bluffing strategies such as calling a raise or re-raising a pre-draw and later folding in smaller bets especially when they have odds of 7-1 or even better than that. If you are against any such player, you must strategically wait for the right moment and bust them.
Type 3: The Badugi Professional
There are the players which things easy and simple. The Badugi pro's arent one of those players, since they can be very hard to manipulate. The main strategy of these players is that either they are very consistent on calling with all three-card hands or they never do. To beat such players, you must try and learn their patterns because they tend to repeat them. Once you have learned what strategy they use, it will be easy for you to find the counter strategy and beat them.
Hopefully, this post will be helpful to learn how to play Badugi poker and enjoy the game. Join us on SWC Poker and become one of the best in the game of Badugi.