BITCOIN CASH POKER – THE EASIEST WAY OF GAMBLING WITH CRYPTO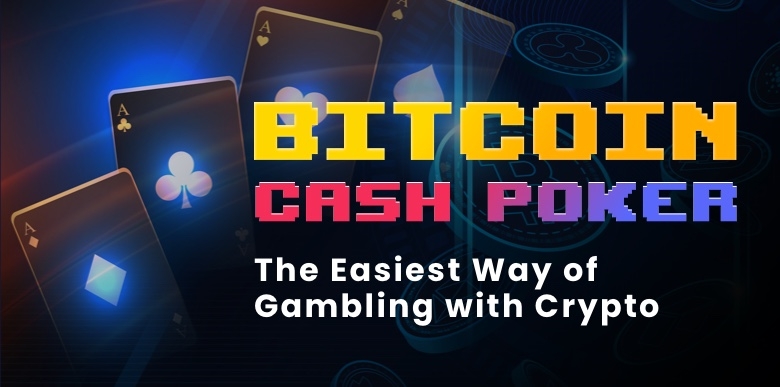 PLAY BITCOIN CASH POKER AT SWC POKER AND WIN BITCOIN CASH. PLAYING BITCOIN CASH POKER IS SECURED, FAST AND CONVENIENT. CLICK HERE TO FIND OUT MORE!
Bitcoin cash poker is the easiest way of gambling with crypto. The first cryptocurrency was invented in 2009 by a group of tech-savvy people under the umbrella name "Satoshi Nakamoto." Bitcoin was created as the pioneering digital currency. It was the first currency that enabled people to exchange goods and services without the supervision of governments or institutions.
As transactions in bitcoin grew, there were a lot of different opinions in the development world about its block size. Bitcoin cash was invented in August 2017 after miners split the bitcoin blockchain into two. A simple debate later on led to the fork of the original Bitcoin. Its main advantage is a smaller block size, that significantly increases the speed and lowers the cost of crypto transactions.
What Is Bitcoin Cash Poker?
SWC poker is one of the few online poker platforms that accepts bitcoin cash for gambling purposes. Nevertheless, you need to pay attention to certain things before you embark on your first bitcoin cash gambling experience. Making mistakes while transferring funds from your crypto wallet to any other crypto wallet, can result in a loss of funds. What you need to do is to make sure that you're transferring your bitcoin cash to the correct bitcoin cash wallet address.
Avoiding direct transfers from KYC exchanges is also a good practice regardless of what you intend to use your funds for, when you cash out your winnings from our poker platform back to your wallet. If you are in crypto for the long term and trying to accumulate it as much of it as you can, simply wire your funds to your bitcoin cash poker wallet at SWC poker and get hands on more crypto.
Things You Need To Know About Bitcoin Cash Gambling
Currently, there are no specific laws governing bitcoin gambling. It's not officially approved or prohibited. Nevertheless, the attitude of governments all over the world towards crypto is changing. Many countries around the world are starting to recognize bitcoin as legal tender and therefor real money.
In countries where online gambling is strictly prohibited, gambling with crypto is not an exception. What most governmental bodies don't like about crypto is that crypto gambling sites are totally secure, because they guarantee the anonymity of all the players and their winnings. No KYC is necessary to sign up and register on poker platforms like SWC poker.
But there are a few exceptions. Some countries like the UK and Curacao already issued licenses for crypto gambling providers. That means that the government accepts the responsibility of controlling the operations of gambling websites and in that sense fully acknowledges crypto as real money. Online crypto poker platforms are allowed to operate normally if they adhere to all the rules and regulations of the jurisdiction that issued the gambling license.
How to Deposit Your Crypto Funds to Our Platform?
Gambling with bitcoin cash poker is not as complex as it sounds. In this section, we'll share with you 2 easy that steps you need to take to start winning those hands. It will take you less than 5 minutes!
Step 1: Sign up for an SWC Poker Account
Go to the SWC poker website, download our poker client, and register your account. You'll only need your email address, a unique username, and password to sign up. After signing up you can start enjoying your poker games right away, without any additional requirements.
Step 2: Deposit your crypto to the SWC Poker platform
Before depositing your Bitcoin or Bitcoin cash to our platform, we advise you that you double check your wallet address. Remember once you send the funds, you can never reverse that transaction, so it's better to be extra careful than sorry. After a few minutes, your crypto assets will be awaiting you to experience your Bitcoin cash gambling adventure.
Why Is Crypto Poker Becoming So Popular?
The growth and popularity of crypto industry is one of the reasons bitcoin cash poker is becoming more popular by the day. Currently, the price of Bitcoin cash is still very attractive, while more governments, retailers and other businesses are starting to accept crypto as a mean payment. Bitcoin cash gambling is one of the best ways of earning more cryptocurrency to add to your portfolio. If you believe that you have what it takes, to start beating your opponents at a poker table and adding to your crypto reserves, don't wait any longer.
The Pros and Cons of Bitcoin Cash Gambling
To some players, playing with crypto is a lot easier than playing in regular fiat like the Dollar or the Euro. Playing with crypto shields some of the players from negative psychological states that go hand in hand with losing streaks and going bust. Even though has the same monetary value, surprisingly losing crypto doesn't impact the players as much as losing fiat money. We're not saying that you should play recklessly, but this fact might come in handy when we're talking about pressure while playing for big pots or big tournament prizes.
It's funny how our mind works isn't it. The players are more and more comfortable gambling with their crypto, but on the other hand advantage of playing bitcoin cash poker is that your winnings might be worth a lot more in the not-so-distant future.
Bitcoin cash gambling on SWC poker platform allows you to start playing with as little as you want, if you have enough balance to pay the tournament entry fee or enough funds for at least 10 blinds at the cash tables.
The gambling industry is already on the brink of change, and it looks like that crypto will play a big part in the gambling story in the future. If you're interested in trying one of the most player friendly, crypto accepting online poker platforms on the web, visit SWC Poker today and try your luck on your favorite poker games. Besides earning extra crypto with every pot, you might also be the lucky winner of bad beats jackpots as well.